Between February 5-8, Harvest Market sent a group of staff to the 2020 Sustainable Agriculture Conference held by PASA, the Pennsylvania Association for Sustainable Agriculture.
At this annual conference held in Lancaster, PA, over 100 workshops are held on a diverse range of agricultural topics to provide knowledge and networking opportunities for the community of farmers, food system professionals, educators, and more who attend.
In this blog post, we highlight some of our favorite memories and takeaways from this year's PASA conference by talking to the employees who attended.
---
Wednesday
On Wednesday, Bob, our store owner, attended an all day workshop on permaculture design at the Horn Farm Center.  Permaculture is branch of agriculture focused on planting, harvesting, and sustaining perennial crops. The defining characteristic of perennial crops is that they live year-round and can be harvested on an annual basis without replanting.  A few examples of perennial crops are apples, oranges, strawberries, asparagus, most nuts, etc.  Generally, any crop that grows from a bush or a tree is a perennial, but there are other perennials that do not fall into that category.
Permaculture design puts an emphasis on building a sustainable, eco-system in which the perennial crops can thrive year after year. A majority of commercial farming relies on tilling the soil in between seasonal crops, which over time has a damaging impact on soil quality and requires the use of fossil fuels. Permaculture, on the other hand, does not require tilling as crops are planted one-time and then nurtured to remain healthy for years to come. This involves cultivating biodiverse and symbiotic relationships amongst the components of the farm so that the operation is working with nature instead of against it.
---
Thursday
On Thursday, Laury, our Produce Manager, had a busy day attending several different workshops.
Laury commented: "I believe the most interesting for me was a class on how farmers become certified organic. Being on the retail end, I don't always have a full understanding of what farmers have to go through, and it was awesome to learn about. I also got to hear questions from farmers in the middle of transitioning their farm to be certified organic, and it was interesting to learn what makes the change so difficult. Surprisingly what seemed the most difficult is keeping records not the actual farming part."
Laury also attended a workshop that day on nut trees by Akiva Silver from
Twisted Tree Farm
. The workshop specifically focused on why the chestnut tree is a great sustainable, low maintenance option for farming. Akiva Silver has written books on the matter and was able to educate the attendees on the history of the chestnut tree in the US.
On Thursday, the keynote speech was given by
Josh Tickell
, an award-winning film director, bestselling author, and climate activist pulling from over three decades of experience.  In his speech, Josh talked about the importance of activism and how we can tackle climate change by creating a regenerative movement from the ground up.  Josh stresses the importance of how our food and farming choices can make a profound impact on the environment when scaled from a local to eventually global scale.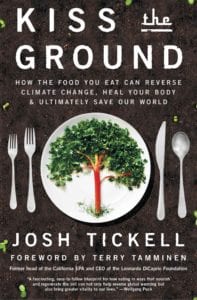 ---
Friday
We had the largest group of staff present on Friday, mainly to attend Michael Twitty's keynote speech that day.  Michael Twitty is a celebrated writer, culinary historian, and educator. In his book "The Cooking Gene," he researches his African-American heritage and explores the influence that his African ancestors had on the foodways and history of the Old South.
A powerful component of Twitty's message is that our history books to do not acknowledge the skills, crops, and culinary impact that enslaved Africans brought to America. In his work, he shines light on the importance of recognizing and honoring this past as well as being conscious of how oppression and cultural appropriation still exists within our food systems.
Michael Twitty's speech was powerful and encouraged us to honor our connection to food and where it comes from. We're all connected to each other through the land, our traditions, and the food we eat. It is important for us to remain conscious of the past and continue to improve our food systems to be just and support equality.
Some words from Megan, the Chef and Kitchen Manager at Harvest Market Kitchen:
"The whole reason I went to PASA was to hear Micheal Twitty give the keynote address. I listened to him read his amazing book, "the Cooking Gene" during a road trip I took to Charleston, SC last year. He challenges me to think deeply about my own food roots and expression. I was so excited that PASA recognized the importance of giving the stage to important voices like his. And, let me tell you, the lunch afterwards filled my soul with my all time favorites: Pulled Pork, Collard Greens and Pickled Okra! I was so satisfied!"
For many of us, Michael Twitty's speech and the lunch following was the highlight of our time a PASA. Seeing him speak was truly was an impactful, inspiring experience.
---
Saturday
Saturday was the final day of the conference and only lasted a half day.  In the morning, our marketing team, Ryan and Carrie, had the opportunity to attend our second workshop with Corrina Bench from Shared Legacy Farms. Corrina gave us a ton of great knowledge and new ideas on how to bring value to the community through our marketing efforts. She was a great teacher and really helped us understand the philosophy behind creating a memorable and meaningful customer experience!
Later, several of us attended a workshop on "Growing and Working with Medicinal Mushrooms" by Olga Tzogas from Smugtown Mushrooms. For a variety of different mushrooms, we learned about their health benefits, how to grow them, and different ways to extract their benefits. It was a fascinating lecture, and it actually ended up inspiring us to start bringing in fresh Lion's Mane mushrooms to the store!  We've written a full article on the Lion's Mane to provide some useful info and easy recipes to follow.
Editors note: This was my first year experiencing at PASA, and as we drove back home on Saturday through beautiful, sun glazed hills of Lancaster, PA, I had a newfound appreciation for our land, our community, the farmers, and the role the that we all play in preserving our planet through the food and lifestyle choices we make.
The overall tone of PASA was one of optimism and family.  As the agricultural community came together to share knowledge and lift each other up, I felt proud and honored to witness the magic at PASA. It was a profound experience to meet some of the amazing, thoughtful, and loving humans behind the food we eat, and it became clearer to me just how important it is for us to support the farmers and companies who are doing right by the Earth and our bodies.
---
Thanks for reading, you can check out some of our other blog posts below!
Read about Julia and Heather, two of Harvest Market employees, with extensive farming backgrounds and exciting current endeavors in agriculture!