Content Excerpted from Equal Exchange and the Panzi Foundation's websites
The Democratic Republic of Congo has been plagued by violence for decades. Equal Exchange founded the Congo Coffee Project with the Panzi Foundation as a means to bring Congolese coffee to market in the United States and raise awareness about the alarming rate of sexual violence that takes place everyday.
Sexual violence has affected thousands of people in the Congo over the last two decades, and for women, men and children in need of medical attention there are not many options; they are sometime ostracized, abandoned or ignored with no where to go.  Survivors of sexual violence seek refuge and assistance at the Panzi Hospital in Bukavu, DRC, a bustling place with more than 360 staff and thousands of visitors each year. The hospital treats patients with various ailments, but has become known as a safe place for survivors of sexual violence to seek treatment and heal from their trauma.
Since inception in 2011, the Congo Coffee Project has raised more than $80,000 for survivors of sexual violence. Through this effort, Equal Exchange has worked with numerous organizations to tell the story of the DRC to the world, to encourage peace in the Congo and contribute to economic empowerment through the purchase and sale of our Congolese coffee. We believe it is our duty to educate, participate in industry events and stand up for the voices that need to be heard.
The Panzi Foundation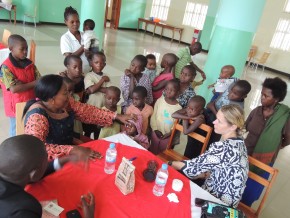 Panzi Hospital was founded by Dr. Dennis Mukwege, a world renowned gynecologist and out spoken activist on behalf of the women he treats. Dr. Mukwege was honored by Women for Women International in November of 2015 with the Champion of Peace award and was awarded the Nobel Peace Prize in 2018 for his work with Congolese women. He is supported by an amazing staff and his sister, fondly known as Mama Zawadi, is the Director for the Maison Dorcas aftercare center.
The Maison Dorcas aftercare center provides survivors of sexual violence with a place to heal, receive counseling and vocational skills training.  Over the last five years, money earned by the Congo Coffee Project has been dedicated to vocational and skills training. Survivors are taught sewing and weaving skills to be later used when they leave the aftercare center.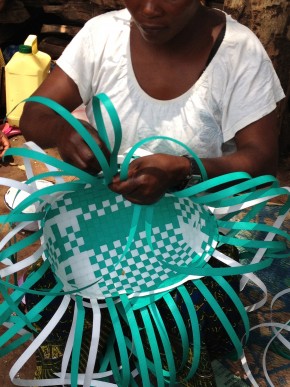 "Beyond investing in individual women, Equal Exchange is also investing in creating a sustainable, entrepreneurial program at the hospital, importing beautiful Panzi Bags made by the women at Maison Dorcas for sale in the United States," said Naama Haviv, Executive Director for Panzi Foundation USA.  "Lives, livelihoods, and communities are rebuilding themselves. It's a remarkable partnership."
Equal Exchange is proud to partner with the Panzi Foundation USA. They purchase coffee from their partners at SOPACDI cooperative and work with like-minded organizations and activists to bring the conversation to life. Equal Exchange believes that through action and financial support, we can all contribute to the Congolese economy and assist the women, men and children by telling their story and supporting the power to heal.
Campaign Update from Equal Exchange
Every year brings joy, accomplishments, and opportunities at Panzi. Every step of the way, you have been with us. Your support and encouragement has helped us enhance our impact at Maison Dorcas and at Panzi Hospital. You've joined us in advocacy on behalf of the girls and women we serve, of survivors around the world, and created campaigns to support this critical, frontline work in Congo. We are so grateful.
Congo is now facing an uncertain future, one that threatens to undo significant progress we have made in improving access to healthcare and other healing services for the most vulnerable in our Panzi communities. We will be watching closely in the days leading to and after December 19, when President Joseph Kabila's final Constitutionally-mandated term in office expires.
You have been our champion, and we hope you will continue with us. Here's how to help the great works of the Panzi Hospital:
1. Buy a bag or two of Congo Coffee at Harvest Market. One sip and you'll be hooked!
2. Panzi provides a sanctuary for all who arrive at its doorsteps. Whether the coming year brings the peace we all desire and work towards, or if we face additional insecurity, we need your support now more than ever to ensure we are ready and able to respond fully. Click here to donate to the Panzi Foundation.
3. Be inspired as you listen to survivors of sexual assault sing their hearts out in the Healing Through Music Program.